What your HBAJ Membership can do for you
Do you want to see how much your HBAJ Membership is saving you? Or maybe you need a file on your desktop to email or print out that can help with membership recruitment?
Look no further… Just click on the links below to see how much your HBAJ Membership is saving you, and please use these flyers as a membership recruitment tool when you're working on potential members!

Earn a 2% discount* on purchases made with your Lowe's Accounts Receivable when you confirm your Home Builders Association membership on LowesForPros.com. For online orders use one of these promo codes when you checkout on Lowes.com to receive free shipping on purchases over $500. – See more at: http://www.lowesforpros.com/nahb
As an NAHB benefit, members also have access to discounts and savings opportunities offered by many top companies. To find out more about these exclusive NAHB Member Advantage offers click HERE!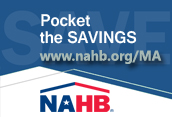 Worker's Compensation Program
AmFed Companies, LLC
576 Highland Colony Pkwy., Ste. 300
Ridgeland, MS 39157
P. 601-853-4949
Health Insurance
Mississippi Group Marketing, P.A.
2635 Ridgewood Road
Jackson, Mississippi 39216
P. 601-982-2580 F. 601-982-1444
E-Mail: alan@mgmins.net
MGM – Health Benefits Plus: A health insurance program offered exclusively by the Association to its members. For more information about participating in this program contact Alan Tanguay at 601.982.2580.
Structural Foundation Insurance
Centricity
Steve Roth
9081 Lake View Drive
Fairhope, AL 36532
P. 228-363-0192
E-mail: sroth@centricity.com
Professionalism for the Mississippi Builder
Certified Professional Builder
Mississippi Housing Institute
Kim Jent
290 Commerce Park, Suite B
Ridgeland, Mississippi 39157
P. 601-969-3446
E-mail: kjent@hbam.com
Becoming a Certified Professional Builder provides an opportunity for builders to pursue professional development through education and customer satisfaction. By agreeing to become a Certified Professional Builder you will agree to meet standards beyond the licensing requirements of the Mississippi State Board of Contractors. Through the certification process, Certified Professional Builder will stay current on housing trends, and the home buyer receives the benefits offered through the program.
Your Member and Sponsor Benefits
• Access to over 500 local members
• FREE listing in the online membership directory
• FREE listing in the Development Guide (Developers)
• Save $100 on HBAJ facility rental
• FREE use of the HBAJ conference room with reservation
• Opportunity to advertise in The Metro Magazine
• Save $150 on Home Show Booth(s)
• Builders save $200 on Parade of Homes entrie(s)
• Builders save $500 or more on Builders Risk Insurance
• Save on Worker's Compensation Insurance endorsed AmFed Program
• Opportunity to advertise on HBAJ Website
• Opportunity to advertise in The PunchList Newsletter
• FREE PunchList Newsletter text listing
• Opportunity to advertise in the Membership Directory
• Opportunity to advertise in the Development Guide
• Opportunity to join a committee & council
• Access to all membership events for FREE or reduced cost
• FREE social media advertising (content must be provided)
• Opportunity to reach more consumers through social media
• Opportunity for web traffic with clicks through online Membership Directory
• Opportunity to provide promotional items at events (Event Sponsors)
• FREE Promotion through The Clarion Ledger Home Finder article every Sunday
• Opportunity to participate in one-on-one builder meetings at Key Connections
• Opportunity to give back to community with charities & other projects
• 10% off on all trade purchases on Houzz
• Save thousands on Nissan or Infiniti vehicles
• $500 cash allowance for Chrysler, Dodge, Jeep, Ram or FIAT vehicles
• Save up to 5% on your Lowe's Accounts Receivable purchases
• Save $500 on most Buick, Chevrolet and GMC vehicles
• Save $100 on set of 4 All Terrain T/A KO2 Tires from BF Goodrich
• 24 HR Worksite Assistance from BF Goodrich
• Insurance Coverage through Marsh
• 20% savings with G & K Services
• Up to 50% discounts on UPS & YRC Freight services
• Save up to 40% off on all Dell Computers
• Exclusive discounts on auto insurance through GEICO
• FREE Gold Membership with Hertz & up to 20% off car rentals
• FREE Avis Preferred Service membership and up to 25% off car rentals
• Free Budget Fastbreak and up to 25% off car rentals
• Save up to 75% off with Office Depot
• Save 10% on Omaha Steaks
• 15% off Wyndham Hotel Group
• 20% off floral arrangements and gifts from FTD
• 20% off standard job posting through NAHB Career Center
• 15% off other human resources with NAHB Career Center
• Valuable welcome offer on the American Express Business Platinum Card & more
• Save up to 16% on TSYS Payment Processing Solutions
• Access to NAHB Amazon Store
• 20% discount off standard rates on Job Postings on constructionjobs.com
• Save up to 40% on a 1 year membership at Sam's Club
• Exclusive entertainment & travel offers through NAHB
• Health benefits through MS Group Marketing
• Opportunity to register for HBAM rebate program (Average of $1,472.55 in rebates)
• Save $150 on annual Permit Subscription
• FREE marketing consultation & computer tech assistance
• Opportunity to save on HBAJ Drone Service
• Up to 75% off Less Than Truckload (LTL) shipping over 150lbs through YRC Freight
• $200 gift card when you qualify for $250,000 Business Line of Credit through Kabbage
• Up to 50% off on Ticket Monster