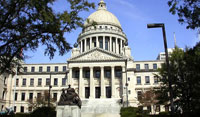 Governmental Affairs is the backbone of the Home Builders Association. We are engaged in the legislative process on three fronts: local, state and national levels.
Working in partnership with our state and national affiliates, the Home Builders Association of Jackson is able to provide its members with timely representation and information on building, housing and construction issues. We need to stay ahead of industry opponents and better serve our members. Our goal is to provide members with the most up-to-date analysis and advocacy on critical housing issues.
Local Government
The Local Governmental Affairs program of the Home Builders Association of Jackson covers municipal and county government issues.
The Local Governmental Affairs Committee:
Monitors and reviews codes and ordinances which directly impacts the homebuilding industry.
Communicates with county and municipal elected officials and policy makers regarding industry issues.
When appropriate advocate for needed changes.
Educates members of the Association about current issues, new ordinances, regulatory, and administrative matters.
The Local Governmental Affairs Committee works closely with 10 municipal permit departments and 3 county permit departments and the Reservoir permit department: Jackson, Clinton, Brandon, Florence, Flowood, Pearl, Richland, Canton, Ridgeland, Madison, Hinds County, Madison County, and Rankin County.
State Government
The Home Builders Association of Mississippi (HBAM) recognizes the direct relationship between the home building industry and the government process. The range of governmental legislation, regulations and judicial decisions affecting residential and light construction seems to be boundless. HBAM is concerned with the developments applicable to the home building industry that are occurring in the state's legislature, the county courthouse and the city halls. For this reason, you will find HBAM members and staff active in all levels of government.
When important issues that affect the housing industry and your business are being considered by the Mississippi State Legislature or National Congress, the Home Builders Association of Mississippi represents your concerns.
There are hundreds of bills introduced every year that could make a drastic difference in your ability to operate in the housing industry. Our lobbyists are there to help keep legislators informed on housing issues, and provide the members with information on legislative activity.
National Government
The Federal Governmental Affairs division of the National Association of Home Builders (NAHB) works on already key concerns among the public and the housing industry, such as rising material cost and tariffs, cluster mailboxes, housing affordability, among others. NAHB closely monitors new issues affecting housing, as well as long standing subjects like affordable housing.